Our London-based digital agency specializes in WordPress website optimization and speed enhancement, ensuring your site's speed significantly impacts Google ranking and customer satisfaction.
Why is WordPress Speed Optimisation Essential?
We are your most trusted partner for achieving reduced loading speeds, we are commited  in providing wordpress speed optimisation services to all types and sizes of businesses. Don't worry about slow loading of your website anymore, these days one of the criteria for Google is to rank websites is by determining the loading speeds, now there are many tools like Google Page Speed, GTmetrix speed, to check whether it loads faster or not. Our team of experts aims to have your website loads faster.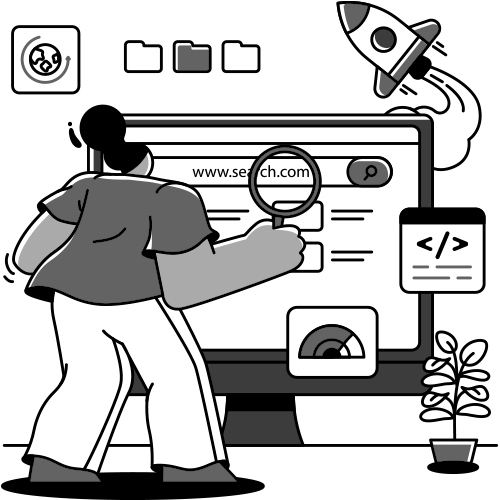 Managed WordPress Speed Services
Our team of expert developers have a proven process to optimise your site loading speeds.
Uncompressed images take up a lot of space in your server and also makinng it slower to load. We uses a lossless image compression method to deal with this issue without compromising on the image quality.
Render-blocking Resources
JavaScript/CSS files, Font Awesome and Google Fonts code are sometimes the culprit that creates a major loading issue called Render-blocking, we move these elements where they won't affect the loading time of visual elements for your target audience.
Minify, Javascript and CSS
We work on all scripts and styles to minify and compress them, add expiring headers, cache your website and move style to the page head and scripts to the footer.
When people visit your website we they are shown a regularly updated saved version of the website instead of having to load the entire website.
We will enable Gzip compression from your server, which means lower loading time and an overall faster website.
Urls that come with a ? in it are not always cached by certain proxy caching servers or even CDNs. This means your website loads slower and we can optimise this issue.
Review Server Response Time
Websites tent to load slowly because they are stored on an inadequate server, we continuously monitor your hosting services and recommend changes if needed.
We monitor and reduces the amount of requests your websites by combining all your CSS and JS and moving what we can to the footer, which can help lower loading time.
We make sure not to use external JS libraries to keep the call outs to a minimum.
We inline the most important CSS and load what's not absolutely necessary after it has rendered the page.
In this fast phased world a slow website has been proven to cause higher bounce rates. Search engines tent to monitor your website's loading speed and can rank your website lower for having a slow loading speeds.  
So partner with us and get your websites optimised for fast loading to provide your target audience with better user experience and improved web vital scores.
How does My Webworld LTD WordPress speed optimization service work?
During our process of onboarding a new client, our team will do a full audit of your website and host. This process enables us to create and execute an personalised plan for your websites to significantly reduce loading time. We also make sure to keep your website load fast over the long-term is a real game-changer.
We also partnered with many premium plug-ins like WP Rocket and WP Smush which brings premium caching and image compression capabilities to your websites.
Can you guarantee that my website will load in under 2 seconds under your care plan?
Although our focus is always to provide you with fast loading websites, we never make any blanket promises as far as the loading time of the websites we manage is concerned. If anyone is promises like this to you, is to simply trying to sell you their services and to get swipe your credit card sooner rather than later.
This being said, most of the websites we manage loads faster, which ensures that your websites are noticed by all the search engines out there. Every website is different, depending on the functionality for which its been made, in some cases it may be impossible to achieve lower loading speeds for example; a website cannot be loading under 2 seconds, which has 20 Google Ads serving external content, and sharing a single hosting with multiple websites!
But if you take our technicians advice and ensure your website is on an appropriate hosting and its great in balancing marketing and growth needs with minimalist speed optimisation techniques, then achieving a lower loading speeds should be no problem for your website.
Can your team help me migrate to a faster host?
Yes indeed! We have already partnered with many leading hosting providers who can offer you affordable hosting solutions without breaking your bank.
We are managing multiple websites from around the world with our hosting providers, so we can ensure you for their hosting quality, customer support and focus on speed. The most important thing is that all our hosting service providers enables a free migration service for signing up with them.
Our team will walk you through all the available hosting partners and each of their hosting packages that best suites your website's specific needs. Once you decide which of our hosting providers is fit for your website, now you sign up with your new hosting provider, we'll work with them closely for your website migration and you also oversee your migration. Their migration team will execute the migration while our team will ensure nothing goes sideways with no downtime.
Once the migration process is completed, we'll take over all the management of your hosting server for optimisation and to make sure your website is maximising its new and fast server.
Do you offer one-time speed optimization services?
We only provide our speed optimisation services to those who want their websites to load faster and tent to keep it that way for a very long time.
One-time speed optimisation services may help you in loading your website for now, but as your site continues to changeover time, it will definitely slow down again unless your are continuously monitoring and optimising your website loading speeds.
We make sure to manage your website speed not for today but for the near future also. We don't usually recommend the one-time speed optimisation packages, but if you insist to go with this option, we would recommend to assign anyone of your personal or a freelancer to monitor and optimise speed for your website.
WordPress speed optimization refers to the process of improving the performance and speed of a WordPress website